Investing: Keeping It Simple At Any Age – An 80/20 Approach
When it comes to investing, I like to keep things simple.  I understand that the majority of people don't have a lot of time to dedicate to their finances and so it's important, in my opinion, to follow some key fundamentals.  These include:
– Finding quality investment products that you understand and are comfortable with.
– Finding strong investments that can offer solid rates of return.
– Growing your wealth through regular contributions.
– Preserving your wealth when you start to draw on it through retirement.
– Finding an advisor that you trust and feel comfortable with to help you with your investment goals.
THE 80/20 PORTFOLIO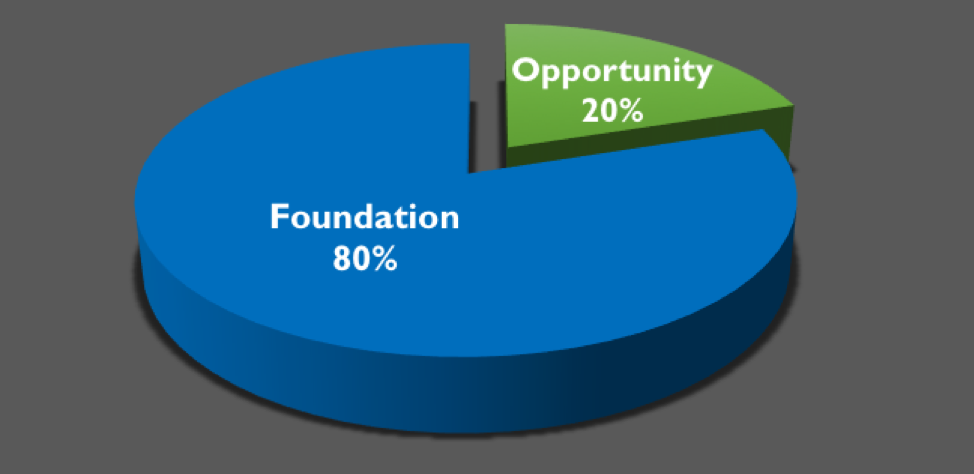 When I first meet with clients, I always start out with an 80/20 approach to investing.  With 80% being the Foundation of your portfolio and 20% being the Opportunity portion of your portfolio.
These percentages can change and fluctuate depending on many factors – like your age, time horizon to retirement, risk tolerance and financial objectives –  but it's a good starting point.   Let's look at this a little closer.
The Foundation (80%)
The foundation of a portfolio is generally made up of stable, consistent investments that are lower risk in nature.  The foundation is an anchor that provides a sense of stability and direction for a portfolio.  Investors have a higher comfort level here so they take larger, more significant positions.
When I meet with a new client, the foundation portion of their portfolio may be higher than an 80% allocation if they are older or already in retirement – and it might be less than 80% if they are younger and have more time for growth.
The Opportunity (20%)
The opportunity portion of a portfolio can be more aggressive and can take on higher risk for potentially higher returns.  The allocation to the opportunity portion of your portfolio can also fluctuate depending on some of the factors mentioned above.
Now let's talk about "How Most People Invest Their Money" using this 80/20 strategy and what the alternatives are.
I really appreciate you reading my post!  If you would like to talk further, with no obligation, please contact me today.
Shannon Pineau
Exempt Market Dealing Representative
E: shannon@whitehaven.ca
C: 403-872-4010
shannonpineau.com
This blog post is intended for information purposes only and does not constitute an offer to sell or a solicitation to buy securities. No securities regulatory authority or regulator has assessed the merits of the information herein or reviewed the information contained herein. This blog post is not intended to assist you in making any investment decision regarding the purchase of securities. Rather, the Trust has prepared an offering memorandum for delivery to prospective investors that describes certain terms, conditions and risks of the investment and certain rights that you may have. You should review the offering memorandum with your professional adviser(s) before making any investment decision. This blog post and the accompanying offering memorandum are intended for delivery only to, and participation in the investment is restricted to, investors to whom certain prospectus exemptions apply, as described in the offering memorandum.
https://shannonpineau.com/wp-content/uploads/2020/02/pws-blog-11-investing-keeping-it-simple-at-any-age-an-8020-approach-featured-image.jpg
1487
2000
Shannon Pineau
https://shannonpineau.com/wp-content/uploads/2018/08/logoshannonen.png
Shannon Pineau
2020-02-12 13:23:08
2023-02-20 23:06:08
Investing: Keeping It Simple At Any Age - An 80/20 Approach