How Can You Access Private Wealth Strategies?
Private Wealth Strategies can be more difficult to access than traditional investment products such as stocks and mutual funds.
To access Private Wealth Strategies like Private Portfolio Management or private investment funds in the Exempt Market – you have to look outside the big banks and find a professional that works in the Private Investment Markets.
For example – an Exempt Market Dealing Representative such as myself!
The Two Main Private Wealth Strategies: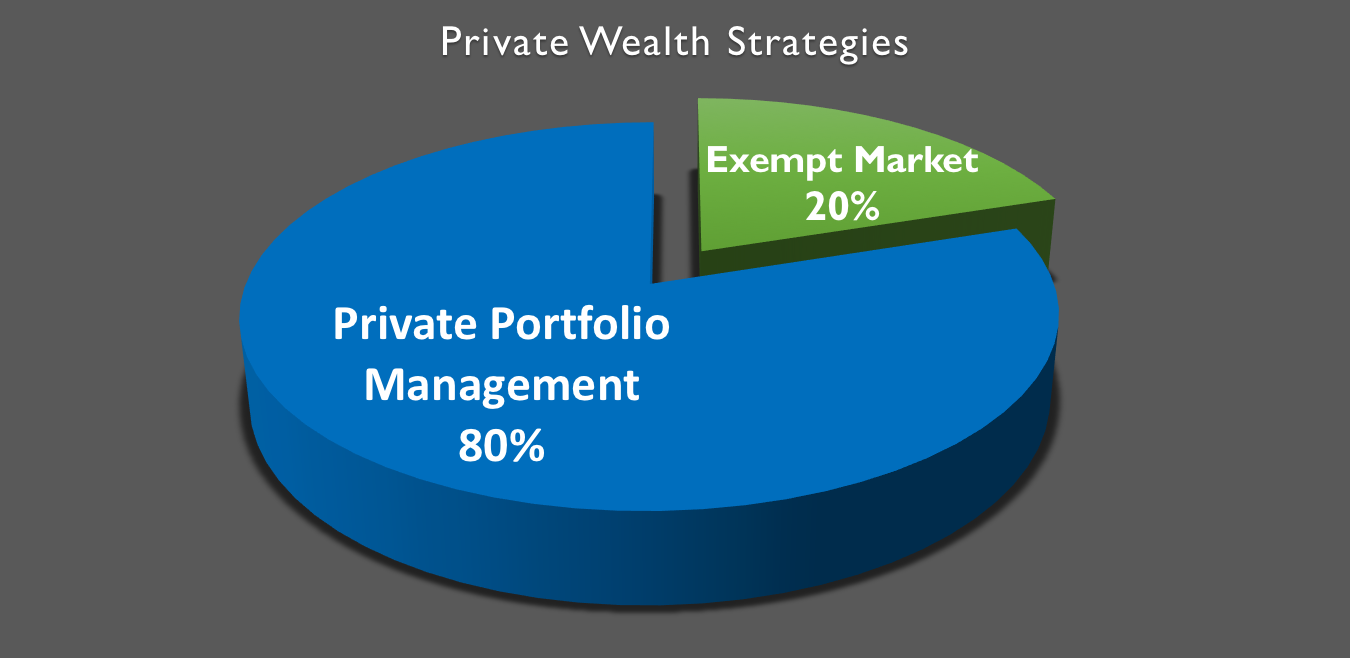 When it comes to Private Portfolio Managers – they are the experts in their field and they have long track records to demonstrate that.
My role is to find the best Private Portfolio Management companies  and set up referral arrangements with them so that I can offer their services to my clients.  These private companies manage the investment portfolios of many of Canada's wealthiest families and are generally not available to the average investor.  I can offer you that access.
In the Exempt Market – you need to find a licensed Exempt Market Dealing Representative who has the education AND experience to guide you through these types of investments.  It's a higher risk space and it's still relatively new to the "average" investor so it's important to find someone who can explain it well and make sure these types of investments are suitable for you.
I can help you find the best Private Wealth Strategies to suit your financial needs!
– When it comes to Private Portfolio Managers, I have referral relationships with some of the largest and best in the business.  These companies can show you their own track records of results and I can help with the process of investing with them.
– In the Exempt Market – I am a licensed Exempt Market Dealing Representative and I work with an excellent Exempt Market Dealer called WhiteHaven Securities.  Most importantly though – in my humble opinion – is that I am very experienced in this market.  I have been offering private investments to my clients since 2007 and for most "average" investors, that's about as long as private investments have been available to them.  It's still a very new market to most and there have been many ups and downs, so experience is very important.
If you've read through some of my other posts – I'm very hopeful that you now have a better understanding of the Private Investment markets in Canada.  Here are two final questions that might be on your mind:
"Why Consider Private Wealth Strategies?" – Why would you choose these types of investment opportunities over more traditional options? And…
"Are Private Wealth Strategies Too Risky & Can You Lose All Of Your Money?" – Usually the biggest fear in almost anyone's mind so it's always good to talk about it.
I really appreciate you reading my post!  If you would like to talk further, with no obligation, please contact me today.
Shannon Pineau
Exempt Market Dealing Representative
E: shannon@whitehaven.ca
C: 403-872-4010
shannonpineau.com
This blog post is intended for information purposes only and does not constitute an offer to sell or a solicitation to buy securities. No securities regulatory authority or regulator has assessed the merits of the information herein or reviewed the information contained herein. This blog post is not intended to assist you in making any investment decision regarding the purchase of securities. Rather, the Trust has prepared an offering memorandum for delivery to prospective investors that describes certain terms, conditions and risks of the investment and certain rights that you may have. You should review the offering memorandum with your professional adviser(s) before making any investment decision. This blog post and the accompanying offering memorandum are intended for delivery only to, and participation in the investment is restricted to, investors to whom certain prospectus exemptions apply, as described in the offering memorandum.
https://shannonpineau.com/wp-content/uploads/2020/02/pws-blog-14-how-can-you-access-private-wealth-strategies-lock-key.jpg
425
640
Shannon Pineau
https://shannonpineau.com/wp-content/uploads/2018/08/logoshannonen.png
Shannon Pineau
2020-02-12 15:17:00
2023-02-20 23:01:44
How Can You Access Private Wealth Strategies?