An 80/20 Approach To Investing – Using Private Wealth Strategies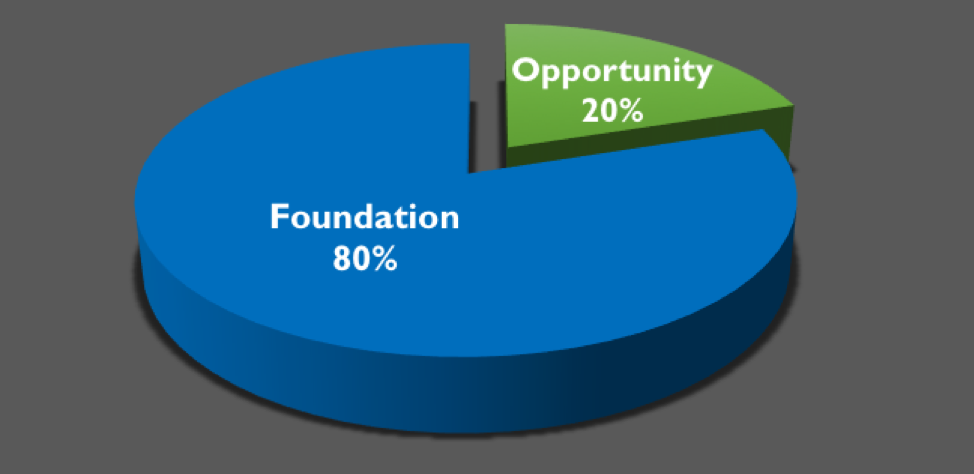 Previously, I've talked about keeping investing simple and starting with an 80/20 approach – with 80% being the more secure "foundation" of your portfolio and 20% being the potentially higher risk "opportunity" portion of your portfolio.
You can read the whole story here but to sum up, the majority of investors stick to mutual funds, bonds, GIC's and individual stocks to fill these two main pieces of their portfolio and save for retirement.
There is nothing wrong with this strategy but, eventually, many investors start looking for better results.
The questions are though:
Where can you find potentially better results?  Where can you find investment strategies that are not mainstream, that can potentially offer higher, more consistent returns, but that also don't hold too much risk?
The answer to these questions is to consider Private Wealth Strategies and here's what that might look like in your portfolio…
An 80/20 Approach Using Private Wealth Strategies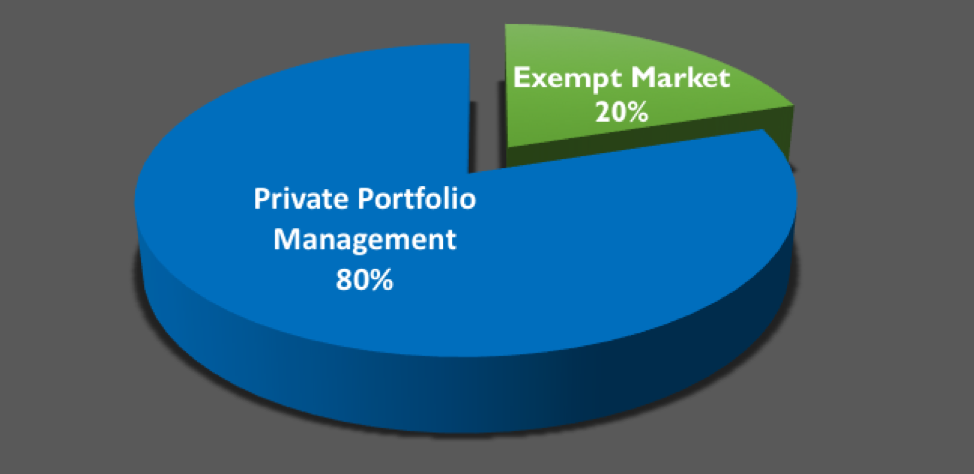 Using the 80/20 rule in the private markets means that the "foundation" of your portfolio would be invested with a Private Portfolio Manager and the "opportunity" portion of your portfolio, if suitable, would be invested in the higher risk Exempt Market.
Here is a brief summary of the two components:
 – Private Portfolio Managers utilize alternative investing strategies which have the potential to offer stable, more consistent returns over time.  There are portfolios to suit almost any type of investor – from conservative (lower risk) to growth (higher risk).  Private Portfolio Management is a premium investment strategy that would not generally be accessible to the average investor.  In the private investment markets, this can be an excellent choice for the "foundation" portion of your portfolio.
– The Exempt Market can be a very good choice for anyone that is looking to fill the "opportunity" portion of their portfolio.  This allocation would be made up of higher risk investments that would ideally provide much higher than average returns.  Finding these types of investments can be difficult for the average investor .  The Exempt Market is well regulated and comes with industry professionals to guide you through it.  It's still high risk and not suitable for everyone – BUT – if higher risk investments are suitable for a portion of your portfolio, the Exempt Market has some excellent opportunities available.
TO SUM UP:
Private Portfolio Management offers a variety of risk levels and is suitable for almost any level of investor.  80% of your portfolio is always a starting point here but it could be more depending on your age and risk tolerance.  There will be more information about Private Portfolio Management here in about a week's time.
The Exempt Market is higher risk and 20% is a starting point here as well.  Depending on your age and risk tolerance, this allocation might be far lower and we might find that the Exempt Market is not suitable for you at all.  To learn more about the Exempt Market, please click here.
If this all sounds interesting to you, the next question is…"How Can You Access Private Wealth Strategies?"
I really appreciate you reading my post!  If you would like to talk further, with no obligation, please contact me today.  You can send a message through my contact form or use the regular channels listed below.
Shannon Pineau
Exempt Market Dealing Representative
E: shannon@whitehaven.ca
C: 403-872-4010 TF: 1-855-872-4010
shannonpineau.com
This blog post is intended for information purposes only and does not constitute an offer to sell or a solicitation to buy securities. No securities regulatory authority or regulator has assessed the merits of the information herein or reviewed the information contained herein. This blog post is not intended to assist you in making any investment decision regarding the purchase of securities. Rather, the Trust has prepared an offering memorandum for delivery to prospective investors that describes certain terms, conditions and risks of the investment and certain rights that you may have. You should review the offering memorandum with your professional adviser(s) before making any investment decision. This blog post and the accompanying offering memorandum are intended for delivery only to, and participation in the investment is restricted to, investors to whom certain prospectus exemptions apply, as described in the offering memorandum.
https://shannonpineau.com/wp-content/uploads/2020/02/80-20-2.jpg
565
850
Shannon Pineau
https://shannonpineau.com/wp-content/uploads/2018/08/logoshannonen.png
Shannon Pineau
2020-02-12 14:40:40
2020-02-14 16:02:45
An 80/20 Approach To Investing - Using Private Wealth Strategies